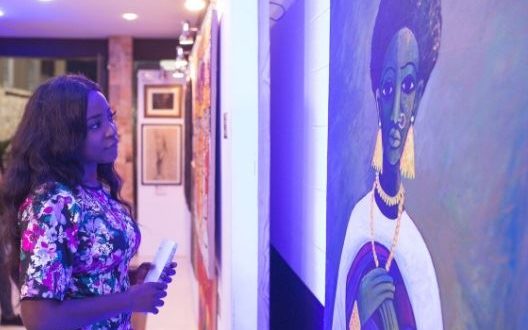 Art Collectors Bid High for West African Art Pieces at the Lagos Art Auction 2018
Lagos, Nigeria – The 9th edition of the Lagos Art Auction took place on the 27th of July 2018, at the Terra Kulture Mydrim Gallery Auction House (TKMG) , located at Terra Kulture, Victoria Island, Lagos. Guests in attendance included art collectors, artists and art lovers.
After a successful collectors' preview on the 20th of July, which gave collectors a chance to view some of the pieces to be auctioned, the auction night was a huge success, garnering bids from various art collectors.
Speaking on the Auction, Curator at Terra Kulture Art Gallery, Ugonna Ibe-Ejiogu stated:
"We are grateful to the artists and buyers that support us and enable us to see such great results. While the sales of works by established artists was inevitable, the auction also saw sales by lesser known names which is encouraging for emerging artists and the growth of the West African Art market".
The top sale of the evening included an untitled piece by Ablade Glover, an oil on canvas from 1992. Other leading sales of the evening included David Dale's Agidigbo, a glass beads on board from 2013, Abiodun Olaku's Delta Symphony (2016), Kolade Oshinowo's Mother and Child (1975), and Segun Aiyesan's Rachael (2018).
This edition of the auction featured an exciting bidding war which resulted in Stanley Dudu's Reading (2016) selling for more than twice it's reserve price. Emerging Artist, Nzennaya Barry Ikechukwu also had two works in the auction which were both sold on the night.
Media Partner: ASPIRE Luxury Magazine
Sponsors: Union Bank, Dorman Long, Unilever, Glenmorangie, Belvedere Vodka, Veuve Clicquot.